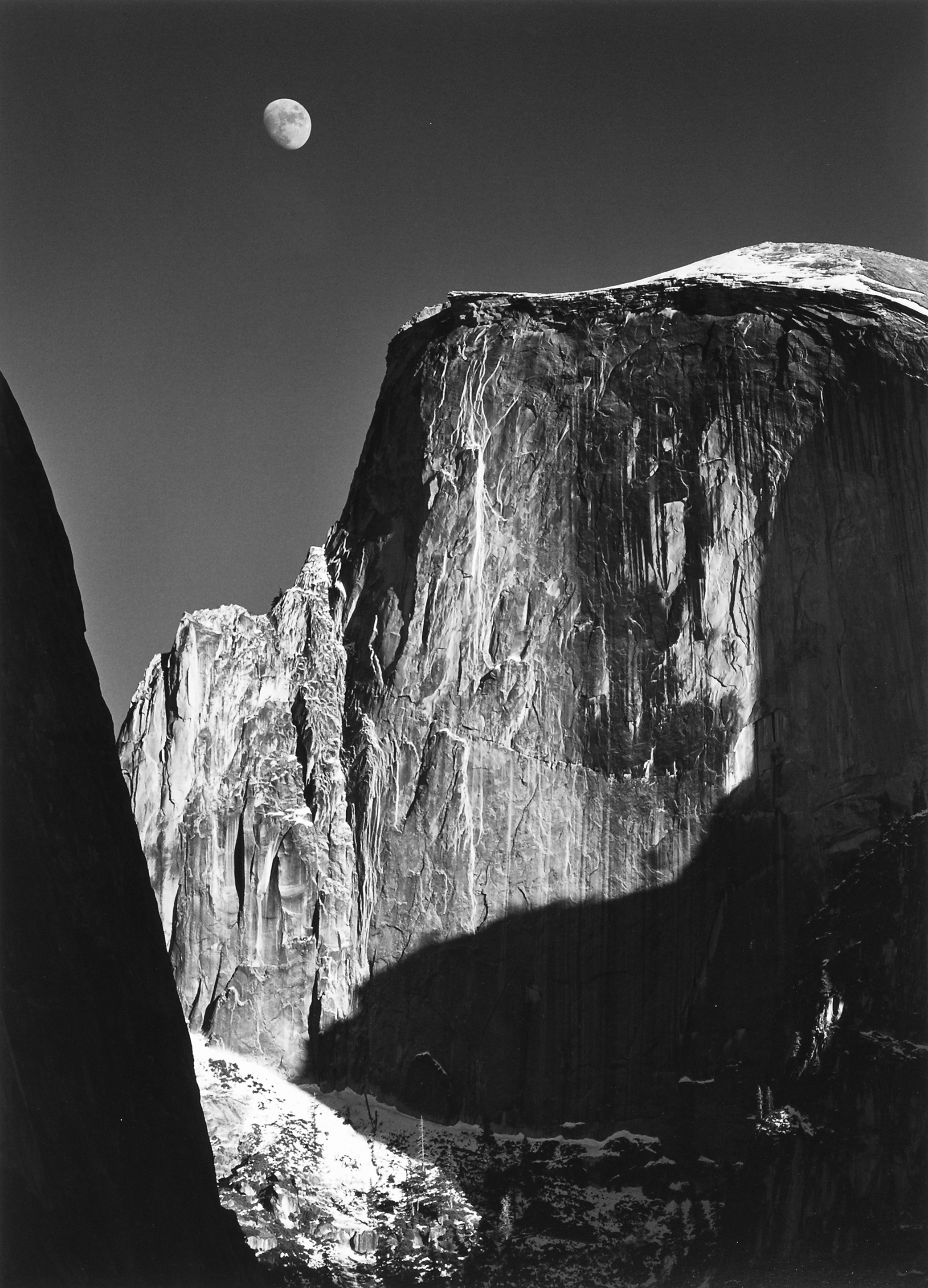 Ansel Adams "Moon Over Half Dome" 1960
For centuries people have been captivated by the stark monolith which is known by the unimaginative moniker "Half-Dome".


My first experience with Half Dome was in the summer of 1996, I was 5 years old. The year previous my father and two elder brothers had summited Half Dome with a group of folks from our church, having thoroughly enjoyed the climb, they had decided to summer of '96 they were going to do it again. My mother, youngest brother and I were staying at the Tenaya Lodge I didn't hike but to this day I remember a few of those iconic views of Half-Dome that have stayed with me until this day.
From my dad's perspective, it was his favorite day hike he had ever done, the views were stunning the waterfalls abundant and gushing and the forests lush. He loved hiking and especially loved sharing these experiences with his sons. despite the strenuous nature of the hike, he looked forward to hiking Half-Dome with my younger brother and I in the next few years.
Fast forward a number of years during a time when my younger brother and I were in the Boy Scouts. We had been a part of the Boy Scouts for about three years when we both decided to quit much to my Dad's dismay. I had been out of shape as a kid (like seriously overweight) although I greatly enjoyed the outdoors I was loathe to do anything with any significant uphill, and the thought of 17 miles was incomprehensible. Meanwhile my younger brother was not very interested in hiking for hiking's sake. My dad still planned on doing it with us someday.
Fast forward to 2008. After some 20 years in the movie business (greens-work) his shoulder had been causing him some trouble. He was also overweight, he was effectively 60 pounds over his weight when he graduated highschool. He had lost a significant amount of weight and gained significant amount of muscle some 8-9 years previous but it had crept back. At one point he began to shave off the pounds along with me (I had dropped from being a 230 lbs 14 year old to 170 lbs [mainly by metabolic virtue and vertical growth]) and been trying to get into shape. Ultimately the world and life crept up on the both of us (as well as my two eldest brothers). Recently as he had began to run his knees would swell up for days. he spent much of his youth in the Sierra Nevadas. He (my dad) had pretty much given up on being in the mountains and his desire to hike Half-Dome with all of his boys might just go on unsatisfied.
But by the grace of God, my family was introduced to a superfood supplement called Mona Vie. Although initially skeptical, everyone in my family began taking it as as a result the days of discomfort and recovery after workouts reduced and my dad was able to resume a solid exercise regime once more.
Unbeknownst to him, his boys were plotting. For Fathers Day 2008 my three brothers and I gave him the gift of a three day camping trip for summer 2009 to hike Half Dome (and to fly out the second eldest brother out from North Carolina).
The Gregory boys were going to Yosemite.
Although an exciting proposition I began to foster internal doubts. For years Half Dome had been this distant entity of certainty in my life. That doesn't make sense. It was something (a daunting something) I knew I would do someday, but in my mind there was never an affixed date.
That had changed.
As much as I loved the outdoors, the real reason that I had joined the Boy Scouts was going cool places with my dad. I liked the outdoors but the main reason was getting to spend time with my father. All my other brothers enjoyed sports and could identify with him through that. I, on the other hand, abhorred physical activity and avoided it like the plague. I just didn't understand watching people exert themselves either. Being a kid with an aversion to sports had ruled out almost all exercise which was in part the reason for my lacking in fitness.
Before then the longest day-hike I had done was 10 miles on flat ground. I had no idea how I would do. I just knew that I would need to get in shape. I had decided I would focus the couple of months of summer break prior to the hike to devote to fitness. In the meantime there was food to be had; besides I had a full year.
Then spring term came at school. One particular Saturday morning I was coerced by some friends to join them on an excursion to do a 5 mile hike. After reading something on it I felt that it would be a good way to get a benchmark on where I was at for Half-Dome.
I was totally and utterly blindsided.
It was difficult, but the most peculiar thing occurred. I'll be darned if I didn't enjoy it. We hiked to the Devil's Chair, a rocky promontory that juts out some 300 feet over and 500 feet above the Devils Punchbowl on the northern slopes of California's San Gabriel Mountains.
It was spring so the peaks above us, Mount Throop, Mount Lewis and Mount Williamson (not the 14'er) were clad in snow, and broad expanse of the Mojave Desert spread out below us. We were in that curious zone where there are evergreens and cactus side-by-side. As we sat out on the Chair, the breeze gently cooled us from the sun and brought to our ears tidings of adventure. We sat and read out of Job 38 where God speaks to Job out of the whirlwind. It was amazing.
After that my Dad and I began arranging to hike a few peaks to get up to altitude so that we wouldn't be completely unprepared, my eldest brother was planing to do a few with us. My youngest brother was in great shape so he avoided going outside whenever there was mountains and dirt involved. When doing this I realized that i had never summitted a mountain before in all of my hiking. Our first summit was going to be Mount San Antonio (Mount Baldy) which was around 11 miles. It was a month away. I couldn't wait that long.
I haphazardly charged up into the local San Gabriel's to climb Ontario Peak which was a lovely front-range Peak with a view of the sea. I was turned back by snow (although I wasn't too terribly torn up about heading down) I was enamored by being in forests, by water, especially by attaining new altitudes. I couldn't explain it it was as if something that lie dormant for years was finally growing. For once the desire to attain something exceeded the amount of discomfort it would take to get there.
Mount Baldy was a wake up call for sure. Despite my new drive I was still overwhelmed by 100 excess pounds of body fat. I was 320lbs the heaviest I had ever been. I was dying. My dad rocketed on ahead and was encouraged about how he would perform on Half-Dome, he ended up waiting for me just under the summit for almost an hour. My eldest brother only beat me by 30 minutes. There was work to do.
Two months and -40lbs later we drove to Yosemite. It was 4 am when we pulled into Bridalveil Creek Campground and found a single spot open, first-come-first-serve. Thank you Jesus. With time to kill until first light, we decided to hightail it to Glacier Point to watch the sunrise. Words cannot express the beauty that took form:
My brother Andy and I were crying. I know sissy right? ;)
Even these pictures fail to capture the depth of this place. Scattering rainstorms caught the morning light and illuminated an incandescent pink. The sun came up perfectly behind Half-Dome.
I can say that morning is probably the most brilliant moment of majesty I have ever witnessed in this natural world. I wouldn't deny my apprehension seeing the stark proportions and harsh angles of Half Dome in person. It was down-right terrifying. I was going to be CLIMBING that. Wow.
We enjoyed our time there until we picked my brother from NC two nights before we had scheduled to hike. We enjoyed hanging out and observing the wonders of Yosemite Valley and in particular, the Ansel Adams Gallery.I just focused on enjoying things and leaving the hike for the hike day.
Then my dad decided to make a bad joke. What if we did the hike at night?
We had hiked 2 miles up Sentinel Dome to warm up and around 3pm the afternoon on the day before we decided to do the hike. We rushed back up to the campground to get there so we would have enough time to get some sleep. We still had to pack our bags and wrap up our campsite and get dinner before we could sleep.
I admit we were a bit rushed, understandably. Then in a hurry to get dinner going my dad was bust chopping wood when we hear a yell from my dad. We all turn and see my dad gripping his index finger having dropped the hatchet to do so.
Despite my apprehension, the first thought to go through my head was: "Shoot, the hike is over," the second was: "oh no dad's hurt."
It turns out he was okay, he had sliced a sizable flap of finger away but it was closed up by a few butterfly closures. We ate and went to bed.
We ended up getting some 2.5 hours of sleep. We then went hiking into the cold night into the scary forest.
I have to say that the night was beautiful and we saw a big buck (!).
The going in the dark was difficult but the fact was that we were only able to hike by a 5 foot circle of light. It was spooky but ultimately it made the hike much easier. It prevented us from looking up and seeing how much further we had to go. My two eldest brothers who had not prepared physically, said afterwards that they would have quit if we had gone in the daylight. It also meant that there were less people and the cables weren't crowded.
My dad and youngest brother made it to the top in time for the sunrise, I summitted an hour after they did (I lost a lot of gas on the cables, otherwise I had felt fantastic) my two eldest brothers some time after. They stuck it out, I have to say, but my eldest brother was pushing it. He ended up hitting the wall on the way down (I say this about him here, where 5 people might read about him, because he can easily crush me now).
All in all it was a profound experience all around. My dad got his wish, I developed a passion (and to a lesser extent my eldest brother) my brother from NC got a glimpse into understanding the will of God (sometimes he hides his will from us for a reason; sometimes we hike in a 5 foot circle of light because the massive extent of what is in out future would overwhelm us and cause us to give up) For my younger brother it was an uncomfortable outdoor situation that grew him. For three of us it was a call to get in shape which I am currently keeping up on (to a very minimal extent).
those of you who know me will understand how big a part of my life this has become. This one experience was the thing that gave me a reason to be well physically. It gave me an outlet for pent up energy. It became a goal to strive towards. Mountains constantly are a tool in which the Lord awes me instructs me and ministers to me.